SHS Captures 17 Medals at Osceola Speech Meet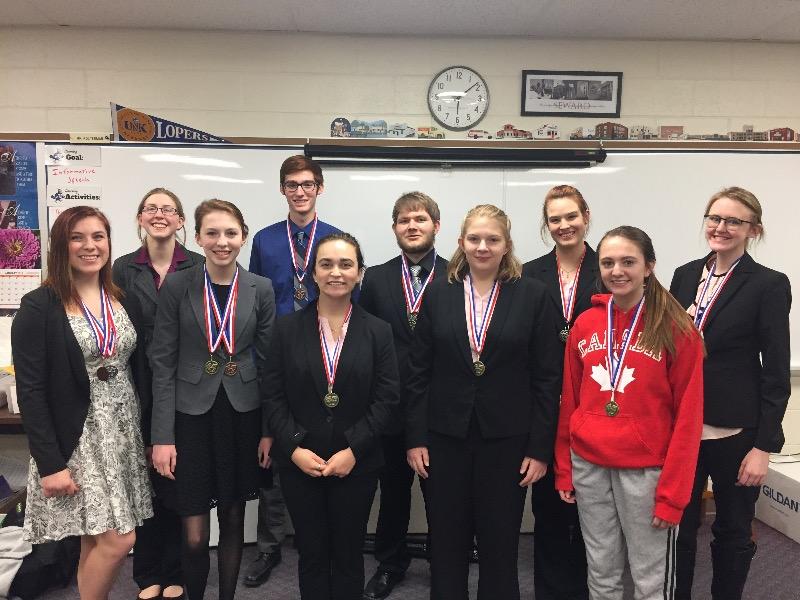 The SHS Speech team captured 17 medals at the recent Osceola Speech meet on Saturday, January 27 at an all-day high school speech meet. Winning first place in Drama Team were Thomas Bosmeniel, Virginia Glaser, Abby Van Velson, Emily O' Kief, and Greta Hughes, with the presention of "Misery" by Stephen King. Capturing second place medals with their duet were Thomas Bosmeniel and Virginia Glaser with the duet "Pig Hives" by Patrick Bates. Thomas Bosmeniel also tied for third in Serious Prose with the presentation of "Tell Tale Heart" by Edgar Allen Poe. Placing Top Novice in Persuasion was Madalyn Lobmeyer, who also placed Top Novice in Informative Public Speaking. Placing in the Informative Public speaking were Kenna Gottschalk-Sixth Place, Cayden Glandt-Eighth Place and Madalyn Lobmeyer-Fourth Place. In Poetry, Alex Sick was named Top Novice and placed eighth overall/ Also placing in Poetry were Bailey Mooney-Seventh Place and Kenna Gottschalk-First Runner-up.
Students receiving Superior Ratings at the tournament included Jarod Harris, Thomas Bosmeniel, Greta Hughes, Virginia Glaser, Abby Van Velson, Emily O'Kief, Alex Sick, Cayden Glandt, Bailey Mooney, Kenna Gottschalk, Cordell Vrbka, Jarod Harris, Macie Spotanski, Peyton Davis Schmidt, Bailee Nielson,
Local judges attending with Seward were Nancy Schulz, Emma George, Robert Kolterman, Melissa Pohl, Jeanna Sick and Clark Kolterman. Clark Kolterman serves as the SHS Speech Coach, with assistant Speech Coach Melissa Pohl.